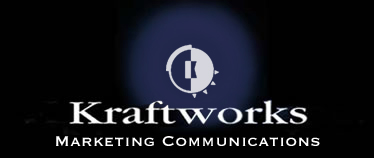 Kraftworks has delivered quality communications for companies like GE, Petro Canada,
BF Goodrich, American Greetings, Holiday Inn, Carlton Cards and Honeywell for over 25 years. Kraftworks has also helped small to midsize organizations both for profit and not for profit with their communications as well.

Kraftworks delivers creative, distinctive, and relevant design answers to meet client communication needs. Delivery systems change over time, but the fundamentals of good communications– concept, word, and visuals– never change.
Latest website Latest email blast Latest email e-note
Creative, Publishing and Art services include: Custom Website design and development,(front end), creative and concept copy, micro visualization, graphic design, prototype modeling, KeyNote presentations, photo illustration, photography, 3D illustration, logo design, corporate identity, illustration services include; watercolor, oil, acrylic, humor, prototype modeling, interactive display design and build.
Serving al of USA, Ohio, North East OH, Cleveland, Mentor, Chardon, Willoughby, Waite Hill, Mayfield, Beechwood, Independence, Lake, Geauga, Cuyahoga, Summit county.